Marcia Cross Says Adoption is Still an Option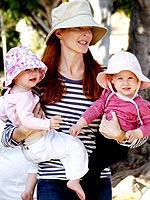 KO/JD/Flynet
After trying fertility treatments with no successful results earlier in life, Marcia Cross has said that the time period before getting pregnant with her twins — Eden and Savannah, 19 months — was "costly and tough on your body and your relationship." While the 46-year-old Desperate Housewives star knows that her age is working against adding more children to her family with husband Tom Mahoney, the couple have not ruled out welcoming babies through adoption. In fact, Marcia says she would "always adopt." Unfortunately, she feels "time is the issue for me."
For now, Marcia and Tom are concentrating on their daughters who are growing by leaps and bounds. Eden and Savannah have both learned to talk and are even mastering "putting words together and sentences." As the girls get older and develop their distinct personalities, Marcia is enjoying the loves of her life. Says Marcia,
"They're so cute, fun, and funny. They're the best thing ever."
Desperate Housewives season premiere airs Sunday, September 28th at 9 p.m. on ABC.
Source: OK!