Jamie Oliver and Jools Inspired By Jolie-Pitts to Adopt a Boy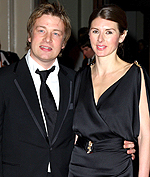 Mike Marsland/WireImage
In a household filled with girls — from wife Juliette 'Jools' to daughters Poppy Honey, 6, and Daisy Boo, 5 — celebrity chef Jamie Oliver can't help but "need a bit of testosterone." While the couple have made it no secret that they are trying for a third baby and hoping for a son, Jamie now shares that if he is unable "to produce a boy," he is prepared to look into other options including the "many vulnerable orphans out there" and hopefully "adopt one." As a father to girls, the 33-year-old is quick to say that his daughters are "cherished," but goes on to admit that he'd be "lying if I said it wouldn't be great to have a boy." In fact, the couple have been inspired to adopt by none other than Angelina Jolie and Brad Pitt — who have welcomed children through adoption three times — after Jamie was commissioned by Brad during a trip to England a few years back. Jamie goes on to say.
"Adoption is such a selfless act and they have a lovely family environment. It's humbling and beautiful to see."
Click 'More' to see why daughter Poppy is embarrassed at school.
While the couple are weighing their options regarding a third child,in the meantime Jamie and Jools are concentrating on raising their twogirls. Although the pair are not oblivious to the fact that theirchildren will not grow up "in a normal environment" as Poppy hasalready caught on to her dad's celebrity status and is "embarrassed atschool," Jamie and Jools vow that their kids will work for what theywant in the future. "Jools and I are real sticklers for manners and ourchildren will realize that if they want something in life they willhave to bloody work for it," says Jamie. So far, it seems like Poppyand Daisy "love to cook," but Jamie is always conscious to "never ramit down their throats." As the girls have been learning through theirmade-up game of cooking school — although Jamie is sure it's just adistraction from going to bed — they have also managed to pick up afew culinary skills from their dad as well. Shares Jamie,
"Iasked my friend Andy the gasman to go into my garden and get me somerosemary. He came back with an old weed. Poppy ran out and immediatelyfound a perfect sprig. I thought, 'That's my girl!'"
Source: The Sun
Thanks to CBB reader Kathryn.