Bloc Party's Gordon Moakes Welcomes a Daughter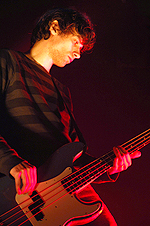 Shirlaine Forrest/WireImage
Bloc Party's Gordon Moakes and his wife recently welcomed their first child, a daughter named Scarlet. The news was announced by Gordon's fellow bandmates during a performance on August 23rd at the Reading Festival.
"We'd like to dedicate our next song to Gordon our usual bass player. I have no doubt he'll be watching online, can we have a big hi to Gordon and his new baby Scarlet."
The 32-year-old bassist had announced a paternity leave from the group in July so that he could be with his wife in case the baby made an early arrival.
Source: Bloc Party