Elena Shaddow Prepares to Return to the Stage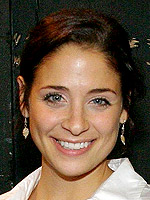 Ryan Miller/Getty
Broadway star Elena Shaddow was absent from the stage this past year, but for a great reason — she became a mom to daughter Adelina Rose, 7 months. Motherhood has been "fantastic" and "life-changing" for the actress, and it also put her life "on hold for a while." That's why she is excited to be taking part in Idaho!, her "first production back since I've had the baby."
However, that means lots of rehearsals that the singer is having to juggle with motherhood and she admits that "It's really intense, and it's emotional, leaving my little girl with a babysitter." Lucky for her, her parents live close by, so grandma will babysit which "definitely helps." Still, Elena isn't sure how how other moms balance it all.
"I don't know how women do it. I am just blown away by these working mothers who can do it all. They inspire me daily."
Elena is married to Michael Harrington.
Source: Playbill