Ben Stiller Knows Past Films Will Embarrass His Kids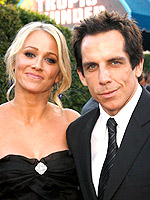 Jeff Vespa/WireImage
Rising to fame back in the 90's with his own television show, Ben Stiller is the first to admit that he has "so many skeletons in my closet." Much like any parent, thoughts run through Ben's mind that his children — Ella Olivia, 6, and Quinlin Dempsey, 3 — will one day be embarrassed to see their dad in roles such as Ted in There's Something About Mary, but he knows that "time does go on." Now 42, the actor hopes that by the time he reaches 50, he "won't be doing gross-out movies," going on to say, "as an actor, you get older and you're not right for those parts. I think I'm at that stage now."
With the success of Night at the Museum, Ben is currently busy filming the sequel which will be out in May 2009. For the Stiller family — including Ben's wife Christine Taylor — museums are a big favorite with Ben and Ella going to museums as much as possible especially the American Museum of Natural History in New York. Says Ben,
"I grew up three or four blocks from there and it's the best one to go to with young kids — it's just special. When I cut school, I would go there."
Ben is currently starring in Tropic Thunder, a movie he wrote, directed and acted in alongside fellow actors Jack Black, Robert Downey Jr., and Tom Cruise.
Source: Metro