You Said It: Five Great Comments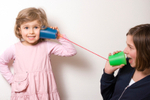 istockphoto.com/wojciech_gajda
CBB was once again buzzing with commentary this week, on everythingfrom baby clothes and sun protection to breastfeeding tips and childbirth. You all had a lot to say, and we lovedreading every word! Here's a look at five great comments from the past week:
Posted by Jessica on Vanessa Williams' Breast Advice for Rebecca Romijn:
Haha, I wish someone would've warned me about sore they get! I thinkit's a cruel joke other moms play on new moms, they don't want to spoilthe surprise🙂 The best thing I found were the little gel things youput inside your bra over your nipples, but I put them in the fridge andthe coolness really soothed them. Keep in mind, my daughter didn'texactly take to nursing right away so I was bleeding, cracked, sore andcrying hysterically every time I nursed for the first week. I canunderstand why some women give up, it was extremely painful. But stickwith it, it's totally worth it in the end, emotionally for the momsince it's a wonderful bonding experience, and physically it's best forthe baby! Good luck.
Posted by amjl on Sound-Off! How Do You Protect Your Kids From the Sun?:
I think it's up to the mother and knowing her kid's skin type. Most kidswon't wear hats, not long term. Sunscreen is great and something weshould do, but we should also brush their teeth twice a day. Somethings are simply not possible in the real world. Every parent doestheir best and what they perceive as reasonable. I have two daughters.One has fair skin and I will try to be careful with it. The other has adark olive type complexion. She can be out in the peak-June sun ALL dayand might get a tiny bit pink on her shoulders which is gone bybedtime. I put sunscreen on her face and those shoulder tops inmid-June to mid-July, when I remember, but I'm not too worried about it.
Click "More" for three additional comments!
Posted by crimpe on Done Nursing, Tori Spelling is Ready to Hit the Gym:
I have 4 kids 5 and under. I breastfed all 11-13 months. My youngestis 6 months and I am still nursing, and will hope to go to 12 months, when I'llswitch to cow. Most people lose weight quickly with nursing. Not me.Initially (the first month) yes, then it was slooooow. You can't drop the last 10 lbs.until closer to a year. It is very hard to nurse and keep up with theother babies. I say every woman needs to figure out what is right forher and her child and be unapologetic. Most of us were raised onformula and we are fine. It is so hard to be in the spotlight. And comeon, we must all admit, with nursing, it's often damned if you do,damned if you don't. It is changing, but we need to give each other abreak.
Posted by AM on Camila Alves Makes Peace With Her Labor and Delivery:
My first son was delivered by an emergencyc-section because I had developed preeclampsia that turned into HELLPsyndrome and my body was shutting down. My mom had me and all mysisters (4 of us) with natural labor, she was a labor & deliverynurse, taught Lamaze in the '80s & '90s and it never even occurredto me that I wouldn't push to deliver my son. I was in shock and if youhaven't had an emergency c-section, you may not understand thedisappointment in that.
I know it was medically necessary and am very happy we were bothokay, but I wanted to be the one pushing him into this world. I wasactually depressed about it and still perturbed that I didn't get totry. My second son was a VBAC after my water broke and I was givenPetocin to speed up my contractions after 12 hours at 2cm.
Both deliveries hurt in very different ways. I understand thatemergencies happen and c-sections are necessary but it is a bigsurgery. And in my mind women have been giving birth for thousands ofyears and I wanted to do that too. I'm glad my c-section went well andmy oldest is wonderful. I'm glad I had the chance to experience theamazingly incredible experience of pushing and bringing my child intothe world! Everyone should do what is best for them because we all liveour own lives.
Posted by Ara on Sadie Sandler's Playground Playdate:
As for how she's dressed, who knows? Maybe Sadie Sandler is a lot likeI was when I was little — always climbing, tumbling, and jumping — inother words — always having my dresses over my head! My dad used to runafter my mom and call, "Caroline, put that girl in some PANTS!"
Send us your favorite comments at CBBTips@gmail.com.