Patrick Dempsey Wants a Simple, Quiet Life for His Kids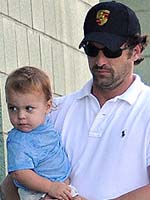 Fame
In a new interview with Company magazine, Patrick Dempsey speaks nostalgically about a youth spent in Maine — and how he hopes to give his own children the gift of a similarly quiet upbringing. Admitting that he'd love to return to his home state with daughter Talula Fyfe, 6, and twins Darby Galen and Sullivan Patrick, 19 months, Patrick mused that the English countryside might work as well.
When the family, including Patrick's wife Jillian, recently vacationed in the Cotswolds in west-central England, Talula was particularly smitten. "It was nice to go riding with my daughter when we were there, she loves horses and it is lovely to be in nature around animals in the peace and quiet," the 42-year-old actor revealed. "The older I get, the more I want to return to the lifestyle I had growing up, as a small kid, playing in the woods and the fields and being around animals." He adds,
"In your 20s you want to be in the city, but now I've had that experience I want to raise my family in a very simple, quiet way."
The fifth season of Patrick's hit show Grey's Anatomy premieres September 25th on ABC.
Source: Company