James Morrison Welcomes Daughter Elsie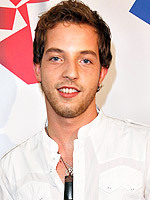 Jon Furniss/WireImage
Update: James and Gill have named their daughter Elsie. Taking to MySpace to blog about his baby girl, James writes, "The birth of little Elsie has been absolutely life changing. Everythinghas been put into perspective."
"I now wonder what I was doing with allmy spare time! She's the love of my life and the main focus in my lifenow other than my music. It has been the most tormenting time of mylife waiting for her, but now [that] she's here it's been the best gift I'veever received."
Originally posted September 10th: Singer James Morrison and his longtime girlfriend Gill recently welcomed their first child, a daughter. She weighed 5 lbs and the couple has yet to decide on a name.
In a recent interview James, 24, shared that fatherhood "is the biggest thing that's ever happened to me." "I'm very excited by it, but it also makes it easier to get on with other things," he explained, noting that "It's not just about me any more."
Source: The Sun
Thanks to CBB reader Hollie.