Eric Mabius Jokes About Baby Names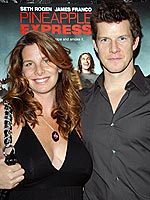 INF
Though Ugly Betty star Eric Mabius and wife Ivy Sherman still have a month or so to go until the birth of their second son, the couple is already playfully tossing around baby names.
"My wife wants a French name, but I don't know. I'll have to enroll him in karate right away if I give him a French name," Eric, 37, told PEOPLE yesterday at a launch party for Vertu Signature Collection mobile phones in New York. "I was thinking Raphael with the p-h spelling. It's a cool name. I guess he'll be a painter or a sculptor or something."
As for big brother to-be Maxfield Elliot, 2, Eric says he's a "hit on the set" of Ugly Betty, and is enjoying his time in Manhattan, as the show recently moved production to the east coast from Los Angeles. "He thinks New York is an island full of playgrounds," jokes Eric.
Source: People.com