Usher Loving Fatherhood, Dodging Baby #2 Rumors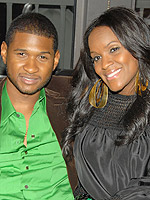 Kevin Mazuer/Wireimage
Not unlike many other celebrities in Hollywood, Usher and Tameka Foster have not officially confirmed the rumors that they are currently expecting their second child. Then again, they haven't denied them either! In a new interview with MTV news, while on set filming his new music video "Trading Places," Usher was all smiles when prompted on the baby news, but would not elaborate either way. "Everybody's saying that [I'm having another baby]. There's a lot of speculation," said the 29-year-old singer.
While he wouldn't discuss a possible future addition to the family, he did share that he is "loving every aspect" of fatherhood when it comes to his 9 ½-month-old son Usher Raymond V. Usher went on to say,
"My life improved so much in having a child. It's a very promising thing to have a child."
Usher has announced that he will be heading out on an all-ladies tour, One Night Stand, this fall.
Source: MTV