Kate Hudson: Ryder Loves Rock and Rap!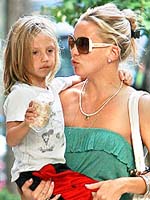 Hector Vallenilla/Pacific Coast News
With a 4 ½-year-old son at home and known for playing sweet, loving characters in countless movies, Kate Hudson is often depicted as the girl-next-door. The actress however, begs to differ as she admits that "now that I have a son, I don't do it as often on a day-to-day basis," but the 29-year-old has been known to "throw out some bad words every once in awhile." While Kate, who was thankful for a role where she felt like she could "say the inappropriate things that I say sometimes in real life" in her new movie, My Best Friends Girl, she credits the time she spends with her son Ryder Russell as being her real center in life. Soaking up all of the time she has off to enjoy her every day life with her only child, she shares that it provides a "pretty good balance" when she is then faced with phases of "working 18 hours and feeling guilty about not being able to be home and be a mother."
With celebrity grandparents like Goldie Hawn and Kurt Russell, an actress for a mother, and rocker Chris Robinson for a dad, it is only natural that Ryder would have stage performing potential in his blood. Although Kate has said that she would defer Ryder from pursuing any spotlight careers as a child, she does reveal that he is already a mini musican like his dad. His choice of music? Rap! Says Kate,
"He's really into rap music and hard rock. It's so funny because while I like rap, it's not really what Chris and I would listen to around the house. But my kid just loves it. It makes him feel cool. I see his little face and all of a sudden he thinks he's cool."
Kate's new movie, My Best Friends Girl, hits theaters this Friday.
Source: Parade