Yankees' Johnny Damon Welcomes Daughter Danica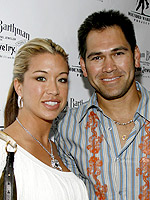 Mark Von Holden/WireImage
New York Yankees outfielder Johnny Damon and his wife Michelle welcomed daughter Danica Damon in New York earlier today, Thursday, September 18th. She weighed in at 6 lbs, 8 oz and joins siblings Devon Rose, 19 ½ months, and fraternal twins Madelyn and Jackson, 9. Joe Girardi, manager for the Yankees, joked that since the new little girl shares the same name as Indy driver Danica Patrick, "I asked if she was going to be a race car driver and [Johnny] said, 'She can do whatever she wants.'"
Johnny, 34, and Michelle have been married since December 30, 2004, and announced the pregnancy in February. Madelyn and Jackson's mom is Johnny's ex-wife, Angela Vannice.
Source: MLB
Thanks to CBB reader Christine.