Gwyneth Paltrow Credits Madonna with Helping Her Overcome Depression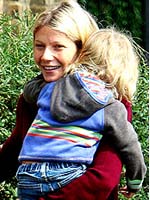 Big Pictures/Bauer Griffin
In a Wednesday appearance on The Oprah Winfrey Show, Gwyneth Paltrow spoke about her battle with postpartum depression following the birth of son Moses, 2, and how her good friend (and fellow mom!) Madonna ultimately came to her rescue. After welcoming her first child, 4-year-old Apple Blythe Alison, Gwyneth was "on cloud nine" and "living in a bubble" — a phenomenon she characterized as "postnatal euphoria." When Moses arrived, the 35-year-old actress expected more of the same but was devastated when her emotional response had changed. Instead of happiness Gwyneth says she felt disconnected — from herself, and from those around her.
"He came out and I was like, 'This is really strange. It's not the same. What's wrong with me?' Then, I just went down kind of a slippery slope with it. I didn't realize what was wrong with me…I wish I had known because I would have gone on medication or addressed it in some way or done something."
One evening over dinner with Madonna — herself mom to Lourdes, 11, Rocco, 8 and David, turning 3 next week — Gwyneth got the perspective she'd been looking for after her friend pointed out that "when obstacles come up in our life, it's for a very specific reason: to teach us something that we haven't learned yet." A grateful Gwyneth credits Madonna with helping her to see the "bigger picture" and to view her postpartum depression as "an opportunity to change certain things" about her life. "[Madonna] really sort of reorganized my molecules in that situation," Gwyneth says.
Click 'more' to read about Gwyneth's postpartum weightloss, and her thoughts on Madonna's children.
Perhaps not surprisingly, when Gwyneth and Madonna get together for playdates, music plays a big part. David likes to perform routines from Madonna's concerts as her music plays in the background, and Moses prefers to listen to songs by his dad, Coldplay frontman Chris Martin. Madonna's skills as a mom are unsurpassed, Gwyneth says.
"You can measure somebody by their children ultimately, and these children are phenomenal…They're very polite. They're sweet, kind, conscientious."
While some celebrity moms make the return to their pre-baby bodies seem effortless, not so for Gwyneth. Her trim and toned physique is "no accident" and is instead the result of working out two hours a day, six days a week, she told Oprah. During the interview, Gwyneth lamented the "demoralizing" difficulty she had in shedding 20 stubborn pounds left over from her pregnancy with Moses, which only added to her feelings of sadness after his birth. Exercise and a re-commitment to eating well helped lift the clouds, however, and Gwyneth says that the benefits are ongoing — for the whole family. Instead of eating out, Gwyneth — who prides herself on being "very, very involved" in the lives of her children — now feels that "it's better to just try and make something at home."
"I'm sort of getting into the idea of nourishing your inner aspect and doing that by investing in your family and making a meal and creating time together."
Source: Oprah