Dominique Moceanu Expecting Second Child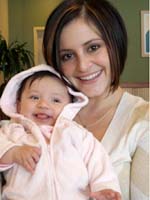 Courtesy Dominique Moceanu
Gymnast Dominique Moceanu is expecting her second child with husband Dr. Mike Canales in March. The couple announced their happy news today via Dominique's official website, writing that they "couldn't be happier" to "add [a] second baby to the nest!" Despite her Olympic gold medal, Dominique, 26, says that being a mom is at the "very top" of her list of accomplishments. She adds,
"I am really looking forward to bringing another precious life into this world."
Baby-on-the-way will join big sister Carmen Noel, 8 ½-months, at home.
Source: Moceanu Times