Family Perks Helped Angela Bassett Decide on ER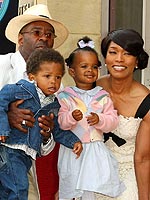 Noel Vasquez
When actress Angela Bassett was offered a role on the Emmy Award-winning show ER, she wasn't sure if she should take it. However, after learning that the writers had created a powerhouse of a character for her, she couldn't turn them down! Adjusting to the 12-hour days was made easier by the fact that her home with husband Courtney B. Vance and their 2 ½-year-old twins Slater Josiah and Bronwyn Golden is just 15 minutes away from the studio, enabling Angela, 50, to spend time with them throughout the day.
"Sometimes when I get home they're asleep already, so I bring them to work or they come at lunch time to visit. My daughter loves to put on the stethoscope. To see her eyes the first time she heard a real stethoscope was amazing."
The twins aren't the only family members Angela is spending work time with — Courtney has signed on to ER himself, playing (what else?) Angela's husband.
Source: She Knows