Done Nursing, Tori Spelling is Ready to Hit the Gym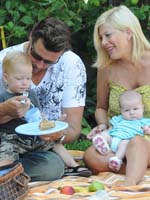 Simon/Startraks
Having spent the last few months nursing her daughter Stella Doreen, 3 ½ months, actress Tori Spelling reveals that she just recently stopped breastfeeding and will now be focusing on losing those few extra pregnancy pounds. Tori, admitting that for now "I'm wearing Spanx," is ready to get in gear and "start a diet program."
For some women hitting the gym might seem like a grueling task, but the 35-year-old isn't worried as she shares that while "getting back to working out is the hardest part," between her husband Dean McDermott and their kids — Liam Aaron, 18 months, and Stella — "we have a really active lifestyle." Tori goes on to joke that her biceps are already in shape — and need no extra help — thanks to her toddler son!
"Carrying the babies takes care of that. Liam is so big now and he still wants to be carried everywhere!"
Source: OK!