Solange Knowles Grateful For Bond With Son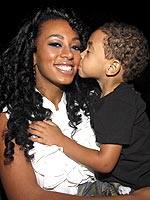 Johnny Nunez/WireImage
Becoming pregnant at the age of 17 and moving to Idaho with her then-husband Daniel Smith was "definitely a change" from her life at home in Houston, Solange Knowles admitted Wednesday on The View. That change ultimately served to make her a better mom to her son Daniel Julez, 3 ½, however. "As a mother, it was the best thing I could have ever done," the 22-year-old songstress says. "Because I was so young, I felt like people thought [I was] going to … hand over Julez and [have them] figure it out for me."
"By me moving there and being isolated and not having a nanny and babysitters and aunties and a cousin up the street, I really focused on having that bond with him."
Solange's second album, Sol-Angel and the Hadley St. Dreams, is in stores now.
Source: The View