Samantha Harris Celebrating Josselyn's First Birthday at the Spa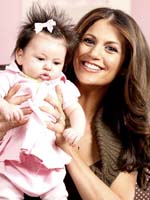 Marc Royce/Courtesy Us Weekly
The morning after she hosts the seventh season premiere of ABC's Dancing With the Stars, how does Samantha Harris plan to celebrate? By throwing daughter Josselyn Sydney Hess a first-birthday party! "We're going to have a little party at a place that's a kids' spa," Samantha, 34, told PEOPLE at Tuesday's Eagle Eye premiere in Hollywood. "She's a little young for the mani-pedi, so I think we'rejust going to have some fun Fisher-Price toys to play with, and a lotof other toddlers coming. It will be her first time having cake and icecream. It will be fun for pictures."
Samantha spent the summer as a correspondent for the E! network, and was also able to take some time off with Josselyn. "Seeing her smile and giggle, and learn new things each and every single day — it's incredible how quickly at that young age," she shares. "To think that a year ago, before the Dancing season premiere I was giving birth, and how quickly a year goes, it's fun."Samantha says she does plan to bring Josselyn to the Dancing set for some visits this year.
As for talk of more children? The hostess — who comes from a two-child household — says that for now, she and husband Michael Hess are putting her career first. "Thankfully, things are so busy with Dancing with the Stars and E!,that it's a really exciting time in my career. I think down the linewe'd love to expand the family. But right now we're justenjoying Josselyn and the time getting to know her as she grows up alittle girl."
Source: PEOPLE.com