Robert Irwin is "Mr. Independence"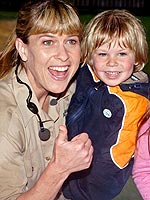 SNAPPER/Bauer-Griffin
Older sister Bindi Irwin better watch out, her younger brother is an up-and-coming star! Robert 'Bob' Irwin, 4, the son of the late Crocodile Hunter Steve Irwin, is already claiming to be "Mr. Independence" and wants his own television show. Determined to follow in his father's footsteps, mom Terri says that he is already a natural in front of the camera. Terri adds,
"He's a little Steve clone."
With a cheeky grin and thick blond hair, Robert, as he is now known, is already wrestling crocodiles, cradling reptiles and filming television segments.Refusing to live in his sister's shadow, Robert wants his own television show, even filming a segment for a 60 Minutes special about owls.
Even though her children are in the spotlight, Terri insists they live a normal childhood, including watching TVs. The kids put in a DVD of one of their father's shows each morning, Terri explains, adding that "it's nice to have Steve's voice in the background" while they sit together and eat breakfast.
Source: News.com.au and 60 Minutes