Flyers Glen Metropolit Says Love is All That Matters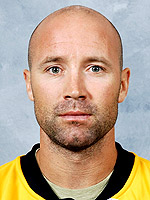 Getty
Growing up in poverty and, at times, foster care has had an undeniable, understandable impact on hockey player Glen Metropolit. The 34-year-old forward for the Philadelphia Flyers says that regardless of the upheaval of his youth he "always felt loved" — asking "what more could you want?" Although his own children — 6-year-old Alivia, 4-year-old Max and 2-year-old Esther — are enjoying an upbringing that is vastly different than their father's, Glen says that the love remains the same.
"I love my kids so much that I can't give them enough affection. My wife tells me I need to work on the discipline part of it. That's tough for me."
Alivia, Max and Esther are Glen's children with wife Michlyn.
Source: Philly.com