Magic Bullet Platinum Pro: Whip Up Your Own Baby Food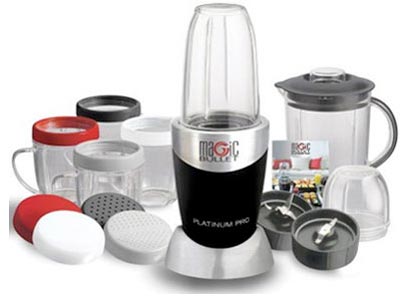 Magic Bullet Platinum Pro
In A Nutshell: Homemade baby food is a cinch to whip up with the Magic Bullet Platinum Pro Blender/Mixer System ($99.99). The set consists of a tall cup, short cup, four party mugs, cross blade and twist blade, a blender and lid, shaker and steamer tops and lids and the power base (with a 350 watt motor). A recipe book is also included.
Why It's Great: To make your own baby food, first prepare your ingredients by either using fresh or steamed vegetables or fruits. Next, put it in one of the containers, twist on the crossblade and turn it upside down into the power base. Then line up the tabs on the bottom of the cup you're using and press down on it to turn it on. When you want the blades to stop cutting, just let go. After about 10 seconds or so, the food in the cup will be smooth and ready for your baby to eat. To put the Magic Bullet into the hands-free lock-on mode (for foods that need to be blended longer), just press down and turn the cup clockwise until the tabs lock under the lip of the power base –it will run continuously until you twist the cup back counterclockwise and the cup releases. Depending on the fruit or veggie, you may need to add some water, breastmilk or formula to your puree. (Watch a demo here.)
Downside: There are a lot of components that come with the Magic Bullet, so clear a shelf or drawer for them. The power base has a small footprint and it is the only item that is not dishwasher-safe.
Overall: I find myself using the Magic Bullet System frequently. I can quickly whip up smoothies for my ultra-picky, impatient toddler as well as meals for my husband and myself. I love that you can make a small amount of food and clean up literally takes seconds, just put the cup and twist-on blade on the top rack in the dishwasher. It really is that easy!
— Nancy