Kevin Costner Does the Math on Being an Older Dad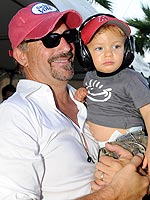 Gerardo Mora/Getty
When Kevin Costner said shortly after the birth of his now 16-month-old son Cayden Wyatt that his "fundamental fear" involved dying and leaving Cayden to be raised by someone else, it raised eyebrows. Asked recently by the Times Online whether — at his age — it is an "odd" fear to have, Kevin, 53, held his ground, telling the newspaper "I don't think so." He added,
"I think to myself, am I going to see him go to college? Am I going to see him graduate? You start doing the math. You begin to look at things that way. You know, I don't worry about it every day, but I was asked the question, so I just articulated the answer the best way I could… Are you anxious to die?"
Cayden is the first child together for Kevin and his wife Christine Costner; He has four other children — Annie, 24, Lilly, 21, Joe, 20, and Liam, 11 — from previous relationships.
Source: Times Online