Despite Split, Kate Hudson Has a 'Happy, Happy Boy'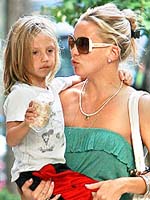 Hector Vallenilla/Pacific Coast News
When Kate Hudson and Chris Robinson parted ways in 2006, they did so with their egos in check, the 29-year-old actress said during a Tuesday appearance on The Ellen DeGeneres Show. By putting the needs of their 4 ½-year-old son Ryder Russell first, Kate feels the couple "did it the right way." "There's somebody whose pride is affected when a relationship ends and then it gets in the way of everything else," Kate noted. "For me it feels like this isn't about me or [Chris]…we knew it wasn't right, we wanted it to be great for Ryder, and we got a happy, happy boy." While their approach requires Kate and Chris to spend "a lot of time" together despite their divorce, Kate doesn't mind.
"Chris is on the road a lot, so when he's not on the road, we really make an effort to be in the same place, [whether] it means I go to where he is or he comes to where we are. We love our baby and with both of us working all the time, and away and traveling, it makes it great for Ryder."
Also a priority, Kate said, is finding a partner who is supportive of her family dynamic. Noting that in the wake of a divorce "it's hard, because … you're getting into new elements of your life, new people and new things" Kate said that "when you recognize that the most important thing is your son, and two people can do that, it makes everything easier." If Kate seems wise beyond her years, it sounds as though she's not alone! Calling Ryder her life, Kate shared that — musically, at least — her son is an old soul, who counts Chuck Berry and The Beatles among his favorites.
He's a smart boy and he's really into music right now … Backstage somebody said, 'Who is your favorite Backstreet Boy?' and he goes, 'Well, I like the Beach Boys.'"
Kate's new movie, My Best Friends Girl, is in theaters this Friday.
Source: The Ellen DeGeneres Show