Red Sox Outfielder Jason Bay Welcomes Daughter Evelyn Jane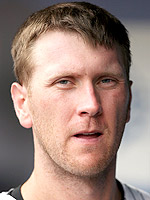 Joe Robbins/Getty
Red Sox nation has grown by one, now that outfielder Jason Bay and wife Kristen have welcomed daughter Evelyn Jane Bay. Jason had been on a road trip but flew home to Boston with little time to spare, arriving at the hospital less than an hour before Evelyn's 6:45 p.m. birth on Tuesday night.
Red Sox manager Terry Francona joked before Tuesday's game that while he had been holding out hope for Kristen to be induced on Thursday, an off-day for the team, baby-on-the-way "just wouldn't cooperate."
Evelyn joins big sister Addison, 22 months on Friday, at home.
Source: MLB.com