David Bustamante and Paula Echeverria Welcome a Daughter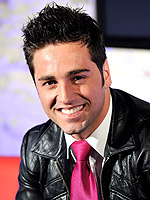 Update: See more photos of Daniela at Hola.
Originally posted August 22nd: Spanish singer David Bustamante and his wife, actress Paula Echeverria, welcomed their first child, daughter Daniela, on Monday, August 18th. She weighed 7 lbs, 4 oz and was 19 ½ inches long. The new dad shared that Daniela is "the most beautiful girl in the world," adding that, "we are very happy." Paula, 31, plans to take a few months off of work to spend time with her daughter.
To view photos of Daniela, click here. The couple announced the pregnancy, sex, and name of the baby in April.
Source: Hola; Photo by Carlos Alvarez/Getty Images.