Charlize Theron Always Dreamed of Motherhood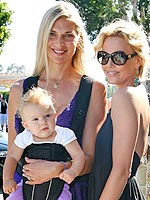 Donato Sardella/WireImage.com
There is definitely love, probably not marriage, but hopefully a baby carriage in Charlize Theron's future. In a Wednesday appearance on The View, the 33-year-old actress — who has been in a relationship with actor and director Stuart Townsend for nearly eight years — explained that while she thinks marriage is "beautiful," it's not for her. "I just know I don't want it, Stuart doesn't want it…Why mess with a good thing?" she asked.
Charlize is considerably more amenable to the prospect of motherhood, however. Noting that she gets asked the baby question "all the time" because she has so frequently played a mom on-screen, she scoffed at the notion that "somehow it takes a movie for you to go, 'Hey! Maybe I want this!'" For Charlize, no such role was needed.
"I've actually always known I wanted to have kids. Even when I was little, I never dreamed about walking down the aisle, but I always [wanted to be a mom] because I have always had such a close relationship with my own mom."
Charlize's latest film (and Stuart's directorial debut!), Battle in Seattle, hits theaters in limited release this Friday.
Source: The View