The Gifted Grasshopper: The Best Books in One Bag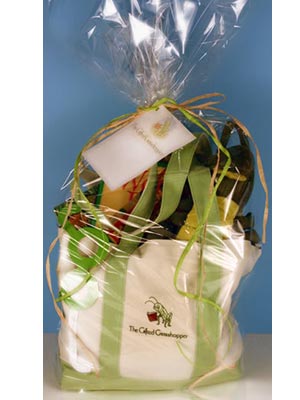 Gifted Grasshopper Gift Bag
One of my favorite gifts to give a child — either my own, or somebody else's — is the gift of books. And it has never been easier, thanks to The Gifted Grasshopper. Founded by two elementary school teachers turned moms, The Gifted Grasshopper hand-selects books for children based on their ages and interests. The books are then slipped into a cute tote bag along with — depending on the size of the bag — a variety of other goodies, including a plush grasshopper doll.
For kindergartners and first graders, for example, there are four sizes of gift bags — petite, small, medium and large, ranging in price from $35-$80. Some of the themes you can choose in this age range include Numbers, Fairy Tales, Transportation and Cynthia Rylant. For babies and toddlers, the themes include Animals, Learning Fun, Alphabet, Colors, Songs, New Baby, and more. And if you're a fan of Barefoot Books, as we are (read our review here), there are even gift bags filled entirely with their offerings! In addition to the age ranges mentioned above, The Gifted Grasshopper has gift bags geared towards preschool and second and third-graders.
The books we received in our petite gift set were top-notch and award-winning, including What Do You Do With a Tail Like This? and Lemons Are Not Red. Our boys loved them, and the plush grasshopper doll was a nice touch. If you love the idea of giving the gift of books but find yourself overwhelmed by the seemingly endless titles available, or unsure of what books work best for what age group, then The Gifted Grasshopper is just what you need. A gift bag in the baby/toddler range would also make a beautiful and thoughtful shower gift.