Sound Off! How Do You Protect Your Kids From the Sun?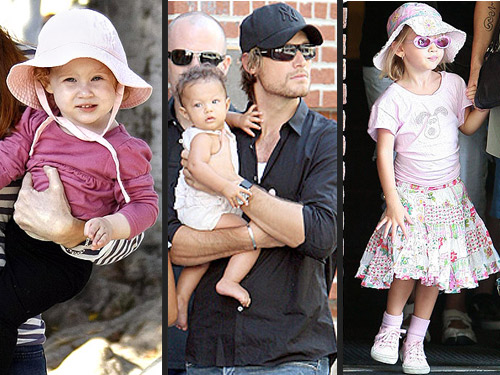 KO/JD/Flynet; Pacific Coast News; Hector Vallenilla/Pacific Coast News
We all know it's important to use a water-resistant sunscreen with a high SPF (at least 15 or greater) on ourselves and on our children, but what else should be done to protect little ones when they're in the sun?
Along with donning "protective clothing," as the American Association of Dermatology recommends, many of you have left opinions in recent posts. Reader DLR wrote of Nahla Ariela Aubry, "With skin cancer on the rise one can't start too early with their kids;Nahla should have been wearing sunglasses and a hat even if she was only outside for 10 minutes." Conversely, reader Julia A said, "When was the last time we saw any celeb baby (besides Eden andSavannah) with either a hat or sunglasses on? No one seemed to bebothered by that particular detail before." However, reader Katie is all for the way Marcia Cross protects her girls, saying "As a fair-skinned mommy of two fair-skinned girls, I am soimpressed with how serious Marcia seems to be about protecting herdaughters' skin."
So here's your chance to Sound Off! Tell us your thoughts on keeping kids safe in the sun.