Harlow Madden is Hitting Milestones, Ignoring Paparazzi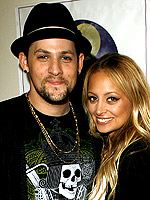 Jeff Vespa/WireImage
After welcoming their daughter Harlow Winter Kate eight months ago, proud parents Joel Madden and Nicole Richie shared in an interview with Extra that their little girl has already hit some major milestones. A bit nostalgic, Nicole says they "don't have to burp her anymore," but are busy as ever with Harlow "pulling herself up standing" and recently learning her first words! According to Joel, 29, the baby girl is quick to say 'Dada' "when she wants to play [and] wants to laugh," and calls out for 'Mama' for "everything else." Already a social butterfly, Harlow is the first to wave "when we walk into a place."
Both Nicole and Joel — having been in the spotlight for years themselves — are well aware that there is big interest in their little girl, with paparazzi following them everywhere. With the idea that the parents don't want to "send the message to [Harlow] that there are bad people around her everyday," their goal, when faced with flashing cameras, is to simply "ignore it because we don't want her to get freaked out." While Nicole admits that when Harlow was younger, it was easy to keep the paparazzi at bay by putting her "in the infant seat and [covering] her," she realizes that that is no longer the case. "She's eight months now. She definitely knows something's going on." Nicole, 26, goes on to say,
"She wants to experience life and as a mother, that's what's important."
Nicole and Joel — who when faced with the question of more children reveal "if it happens, it happens" — are currently spreading the word about the Richie-Madden Foundation's first big project. By having people text CHILD to 90999 to donate $5, the couple hope to build a playground at a low-income housing development in Los Angeles.
Source: Extra