More Ugly Betty Babies from Ana Oritz?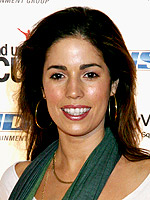 Fame
With Rebecca Romijn pregnant with twin girls, executive producer Salma Hayek toting her gorgeous 11-month-old tot Valentina Paloma, Eric Mabius expecting a second son with his wife AND Christopher Gorham and his wife anticipating their third, the Ugly Betty set is experiencing a major baby boom. One more actress who may get in on the action? Possibly Ana Oritz! "It's definitely something that my husband [musician Noah Lebenzon] and I talk about all the time," she told PEOPLE at the show's season premiere party in NYC last night.
Ana revealed that as an actress, she's always felt pressure not to have children due to the demands of her job. "I remember when I first got engaged, [co-star America Ferrera] wanted me to have babiesright away, and I said, 'I can't, they'll fire me!'," says Ana. "And she told me,'Don't live your life in fear. You have to do what you want to do; youcan't stop your life for TV.'" Ana does admit that she no longer worries about the effects of pregnancy and children on her job, as she has "the most supportive producers. But I would [get pregnant], even if they didn't want me to."
The new season of Ugly Betty premieres Thursday, September 25th on ABC.
Source: PEOPLE.com