Meg Ryan Reveals How She Chose Daisy's Name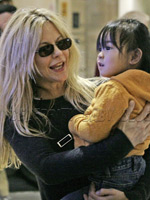 Bauer Griffin
When it came to choosing a name for her daughter, 3 ½-year-old Daisy True, Meg Ryan took her time — one month, to be exact! In a recent appearance on The Late Show with David Letterman, the 46-year-old actress shared that Daisy's name was initially going to be Rae. "In the end, I didn't like it…I got so nervous about it…it's a guy's name, and she had enough to deal with, you know?" Meg explained. Three days before mom and daughter would meet, Meg found herself in China — still without a name — sorting through endless emails and voicemails from friends and family members after putting out the call for help. Some suggestions, Meg reveals, were better than others!
"I had a friend who was in a little bit of a manic phase, a little bi-polar, and I was getting reams and reams of names [from her]. My favorite was Oprah Winfrey Ryan. I knew then that I was in trouble. She was convinced that celebrities should just name their babies after celebrities…But we had to rule it out."
When the duo left China together, Daisy had officially been named Charlotte — but the name didn't fit; about a month after their return, Meg made the switch. "It took me a while to get to know her," Meg explained. "[Daisy]'s a really ridiculously happy person, and it was the happiest name I could think of."
Click 'more' to read about Daisy's personality, and how she gets along with her big brother.
Like many toddlers Daisy is "very much running the show," Meg said. During one recent outing, mother and daughter were navigating their way through a parking lot when Daisy decided that Meg had made one too many turns with the stroller, prompting Daisy to yell "Oh no! We are lost!" Her daughter is also "very susceptible to advertising," Meg shared.
"It's stuff like kitchen appliances. She will say, 'Oh we need that!' Or, 'There's a third off that muffler!' She's all into Meineke and Jiffy Lube. She's a mysterious person."
The dynamic between Daisy and Meg's son Jack Henry, 16, is equally humorous. Although the two "get along really well" and are "hilarious together," Jack "for some reason is threatened by [Daisy] telling him what to do," Meg said.
"We will be driving around, looking at Christmas lights, and I'll say 'Oh, look at the lights outside!' And before anything, she'll say "Look at the lights, Jack!" And he's all, like, 'Mom, she's telling me what to do again.'"
Jack is Meg's son with ex-husband Dennis Quaid. Her new film, The Women, is in theaters now.