Smiles All Around for Marcia Cross and Twins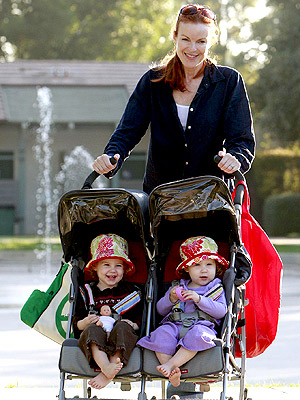 Flynet
With ankles crossed (and a baby doll in lap!) Eden and Savannah Mahoney, 19 months this week, smiled for the shutterbugs while headed to the playground with mom Marcia Cross on Sunday in Brentwood.
Dad is stockbroker Tom Mahoney, whom Marcia, 46, wed in June 2006.
Both girls wear Baby Lulu chrysanthemum woven roll hats ($13.48).
Savannah wears Wewe Clothing's Genius yoga pants in lilac ($45).
The stroller is a 2007 Maclaren twin techno in crimson/gray ($340).
On the stroller is Dante Beatrix's green groovy baby peace sign diaper bag tote ($115).