Liev Schreiber on the Terror of First Birthday Parties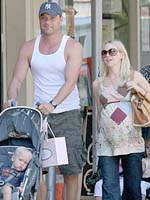 Guerra Jr/Rodrigo Guerra/Ramey
For some parents, first birthday parties are a joy; for others, anything but. Alexander 'Sasha' Pete Schreiber — the 13-month-old son of actors Naomi Watts and Liev Schreiber — appears to have been blessed with one of each. In a new interview with W magazine, Liev admits that while Naomi "loves a big party," he doesn't feel quite the same. Of their son's fête, held in the Hamptons, Liev says,
"It was like a land mine, I mean, a minefield of children. There were little babies everywhere and adults — people I didn't know. I was horrified. Terrified."
The terror was also on display several weeks prior, when the family celebrated Sasha's birthday with Liev's family in Virginia. A self-professed "obsessive-compulsive" when it comes to keeping things neat and tidy, Liev was mortified when Sasha dug into his cake with his bare hands — a rite of passage for most 1-year-olds. "Naomi was like, 'That's what's supposed to happen!'" Liev recalls. "But I'm like, 'This beautiful cake my mother bought. Don't do that!'"
Click 'more' to read about why Liev considers himself "such a putz," and how fatherhood strengthened his bond with his own mom.
Admitting that he is "really uptight" and calling himself "such a putz," Liev's tendency to over-analyze has led him to some outrageous theories about why Sasha does the things he does. "I've never worried so much as I have since I had him," Liev says. "I was always kind of a worrier, but now I worry a lot."
"Like, he's been having trouble sleeping, and it turns out that he's got [a] cold…But I'm running in my head, things like 'He's crying because he's frustrated because I'm a bad father!' And then I'm thinking, 'Oh my God, he's got all these deep issues already!'"
Liev's own childhood included the demise of his parents marriage and, in the aftermath, spending time with his "hippie" mom on an upstate New York commune, among other places. If he developed any "deep issues," as a result, they've since been resolved because having a child has made Liev view his upbringing differently. "Since I've had Sasha, I've completely identified with everything my mother went through raising me," he says. "And I think her choices were inspired."
The second child for Liev, 40, and Naomi, 39, is due in early winter.
Source: W