What to Look For: Diaper Bags
Diaper bags used to be utilitarian but now they're a fashion statement in and of themselves. I just returned from The ABC Kids Expo, a maternity/baby/kid gear tradeshow, where the trends point more and more to diaper bag as glorified purse. So why not just use a purse or tote bag? There's no reason you can't (many moms do), but you may find that a diaper bag has the pockets and features that are more suited to toting specifics for baby.
Like strollers, you'll find that your needs change so be prepared to that this first diaper bag purchase is not your last! In the beginning, you'll feel like you need to bring everything but the kitchen sink because small babies require a lot of stuff on the go: diaper changing stuff like diapers, wipes, a changing pad, cream, etc., a change of clothes, burp cloth, and for bottlefed babies, bottles, formula or breastmilk, and all of the accompanying acoutrements. As they get older, they require different stuff- solid food and sippy cups will replace the bottles and pacifiers.
Before you register for or buy that diaper bag, read our What To Look For guide on choosing a diaper bag.
According to Ali Wing, of giggle, and author of the new giggle Guide to Baby Gear, when shopping for a diaper bag, there are quite a few factors to take into consideration. First, what basic style do you prefer: messenger bag, backpack, and over-the-shoulder. Then consider the following:
Comfort is key. Look for cushioning and adjustability,especially if you're sharing the bag with someone with a different bodytype. Also, Ali reminds us, "plan for the fact that you won't need tocarry as mich as your baby grows from infant to toddler… when youhave a newborn, you're usually carrying the baby and the bag; when youhave a toddler, you're usually carrying the bag and chasing the child."
Will this be one among many bags? Some people, Ali says,"consider the diaper bag an accessory, and want to have several tochoose from, just like their handbags."

Easy cleanup. Ali says to avoid bags that can't get wet or dirty, and look for bags that are either washable or wipe clean easily.

Are you using cloth diapers? Unlike disposable diapers,cloth diapering requires hanging onto the dirty diapers the rest of theday instead of throwing them out so your bag can be as heavy or heavieras when you left your home. You may need a bigger bag than youoriginally thought.

Are you a parent of twins or do you plan on having another baby soon after?If so, you'll want a bigger bag because "multiples means some of yoursupplies must multiply too," says Ali. She also points out that parentsof special-needs children often find they have more to carry along andwill probably need a bigger bag.

Style. This is your new purse and you'll be carrying it withyou whenever you go out with your baby. Now's the time to indulge alittle and choose a diaper bag you'll be happy to carry with you day inand day out.

Also, remember that the diaper bag is your diaper bag, not your baby's. Justbecause you have a boy doesn't mean your bag can't be pink and girly.After all, you're the one carrying the bag, not your son! That said,Will you be sharing with your partner? If so, he may not want thebubblegum pink bag you think is so cute.
As we mentioned, diaper bags come packed with features, but you maynot need all of them. Here are some features to look for, but not allare required.
Cargo space. Are you a pack rat or a minimalist? Youwon't need a hugebag if you just carry the bare bones, but if you like to carryeverything with you, you will definitely need a bigger bag. If you'renot sure how you'll be, Ali advises that, "what you prefer in handbagswill bear a lot of resemblance to what you'll like in diaper bags. Doyou tend to overpack or travel light? Do you have one great bag or lotsof bags to mix and match with your outfits?" Our Ciaran adds, "if you are a heavy packer, bag weight is a bigger factor so weigh the bag because if you carry a lot of stuff, a heavy bag is going to be a real drag."
Changing pad. Most diaper bags come with one, but the luxeones are often more padded. If you don't love the one your bag comeswith, you can always buy another.
Insulated bottle holder. If yours doesn't come with one, and you will be bottlefeeding, you can usually purchase a separate one.

Easy and quiet access. Avoid complicated latches and loudVelcro closures that can wake a sleeping baby. We love magneticclosures but they do add to the overall cost.

Stroller compatibility. Will it hang from your stroller orfit in the storage basket? If not, you'll need to carry it. Manystrollers nowadays come equipped with stroller straps so they attach toyour stroller but you want to make sure that the stroller will nevertip when it's attached.

Pockets. Many pockets make a bag easier to organize but notnecessarily easy to locate things. External bottle pockets are nice tokeep baby's bottle or sippy cup handy, and you can even tote your ownwater bottle in it. Some bags also have pockets made with waterproof orantimicrobial pockets to store wet or yucky things. Ciaran adds, "if you are someone who likes to change bags a lot,you might prefer a clutch over a bag with tons of pockets. If you bring your own organization to a bag in the form of pouches, you will probably not need as many pockets."

Parent compartments. Quick access to your cel phone, wallet, and keys makes finding your stuff easier.
Here's what the moms at CBB are carrying:
Danielle (senior editor, mom to Anya, almost 3): Skip Hop's Via Messenger, but have also loved Fleurville's Re-Run, Skip Hop's City Chic and Saddlebag, and Baby Kaed's b-kaed Jaipur
Angela M. (development editor, mom to Isadora, 7 months): Skip Hop's Via Backpack and Stella McCartney for LeSportsSac Everyday Tote
Ciaran (writer/reviewer, mom to Leo, 6 months, Fox, 4, Ani, 8, Marly, 11): Maya Moon custom bag, Not Rational's Fab Bag, and Reese Li's Lexington Bag
Nancy (reviewer, mom to Allegra, 8 months, and Ben, almost 3): Fleurville's Mothership in Tangerine Ogo but she says "I wish it was a tad bigger"
Teba (reviewer, mom to Catie, 3): None now but for a year and a half, a $10 tote bag from Target.
Missy (writer/reviewer, mom to Sam, 2, and Owen, 4) : Roman Savell weekender tote (not a dedicated diaper bag, it's wide open and I can fit a ton of stuff in it) and Storksak Emily bag.
Danielle D. (writer/reviewer, mom to Lucia, 18 months, Harry, almost 4, Angus 5 1/2): Lands' End Open Top Medium Canvas Tote Bag
Reva (reviewer): Newborn-9 months- Loom Marsupial,9 months – 2 years: Lands' End Do It All diaper bag, for short outings as they get older, the JJ Cole Essentials Diapers & Wipes Pod.
Julie (reviewer, mom to PJ, 3 1/2): When he was still in diapers, Fleurville Sling Tote.
Scher (art director, mom to Jackson): OiOi's Hobo Bag
Simeen (consumer marketing, mom to Alex): Skip Hop's Dash (very convenient and small enough that it never felt too bulky but you can't really fit more than one change of clothes and a few bottles) and recently, a regular back pack since I need both hands to try to prevent Alex from climbing and jumping over things – somehow the shoulder bag feels restrictive.
Serena (writer, mom to Aria, 16 months): Kecci's Shanghai Mommy Bag
Anya (reviewer, mom to Andrew, 2): Go Gaga Slide Bag
Ali Wing tackles every major piece of baby gear this way. For hertake on what you' for baby on the go, the nursery, feeding and bathtime, check out The giggle Guide to Baby Gear. It ships for free when you order directly from giggle.com.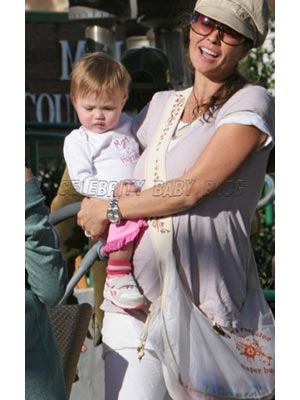 Flynet – Brooke Burke carried daughter Rain and a Hera diaper bag from her Baboosh Baby line, made from recycled boat sails.
Check out our reviews of some fabulous diaper bags you may or may not have heard of.
What diaper bag are you currently carrying? What do you love and hate about it?