Rugby League Player Amos Roberts Welcomes a Son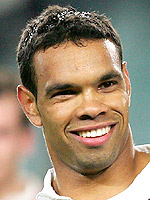 Matt King/Getty
Australian rugby league player Amos Roberts has welcomed his second child, a son. His "heavily pregnant" wife Zoe was to be induced so that Amos could fly with his team, the Sydney Roosters, to New Zealand for a match this weekend; While the induction was a success, with Zoe delivering earlier today, the plane apparently left without him! Admitting that he was "hoping for a lot in a short space of time," Amos, 27, said that being present for the birth was his top priority.
"I was there for the birth of my first. You only get one chance to see the birth of your child — I just want to be there."
Baby boy was due September 8th, but proved to be a "real stubborn little thing," Amos noted. The couple wanted to induce on Monday, but were unable when their hospital ran out of beds. Like most women who are overdue to deliver, Zoe was "over it," according to Amos, who added before the birth, "she just wants the baby out."
Sources: The Canberra Times, News.com