Tobey Maguire Works 'Family Time' Into Spider-Man Contract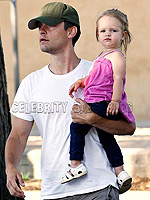 ODuran/Fame Pictures
In what is being hailed as a victory for working moms and dads in Hollywood, Tobey Maguire has secured "family time" in the deal he's reportedly inked to appear in Spider-Man 4 and 5. The two films will shoot back-to-back over a grueling six month span, but Tobey will be free to spend early mornings and evenings with wife Jennifer Meyer Maguire and the couple's 22-month-old daughter Ruby Sweetheart.
The Times Online reports that Sony Pictures was prepared to offer the title role to another actor because it feared the clause would set a bad precedent; Chairman (and mom!) Amy Pascal agreed with Tobey, however, that six months without built-in family time was unfair — for any parent.
Ruby is the first child for Tobey, 33, and Jennifer, 31, who married in 2007.
Source: Times Online