Richie-Madden Foundation to Build Playground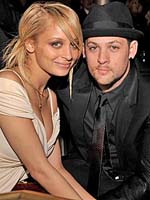 Lester Cohen/Wireimage
The Richie-Madden Foundation has begun its first major project, Nicole Richie and Joel Madden announced Monday. The pair — whom x17 spotted out grocery shopping with 8-month-old daughter Harlow Winter Kate over the weekend — plan to build a playground at Beyond Shelter, a low-income Los Angeles housing project with no recreational facilities for the 175 children who reside there. Holding an ice-cream social earlier today to share their plans, Joel told the crowd, "We think there should be a playground on the concrete slab you'resitting on… And I'll come play on it!"
Helping the project is easy, Nicole and Joel reveal. To donate $5, use your cell phone to text CHILD to 90999, and the money will be charged on your bill the following month. The Richie-Madden Foundation collects the payments from the cell phone carriers, and they fund the playground. In a statement, Nicole and Joel explained,
"We hope our support will shine a spotlight on important issues facingchildren and will inspire and educate the public, especially youngpeople, to get involved, too. We want to do more than write checks."
For more information, please visit The Richie-Madden Foundation.
Source: PEOPLE