Richard Gere: I'm 'Nuts' About My Son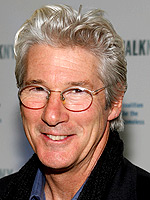 Mark Von Holden/WireImage
According to Richard Gere, after divorcing his first wife, model Cindy Crawford, and only casually dating, he was definitely "not looking for someone to complete me, that's for sure." That was until he met — and instantly fell in love with — his wife Carey Lowell, with whom he will celebrate six years of marriage this year. Crediting Carey for making their marriage "brilliant," Richard lovingly reveals the qualities that brought these two together, sharing that they are "honest mirrors in which to see ourselves and grow and change." The 59-year-old actor — who classifies their relationship as "love without ego" –is quick to admit that it's a "big deal" for many people to "back off our egos and be there for someone else."
However, Richard reveals that upon meeting Carey, it was quite clear to him that he was "not afraid" to add a baby to the mix. With the birth of their son, Homer James Jigme, in 2000, Richard is completely elated being a father and holds back no excitement as he is "nuts about my son!"
"He fills me with joy. You have to make time for a child, but it's enormously satisfying. That's love, too."
Richard's new movie with Diane Lane — Nights in Rodanthe — is set to be released September 26.
Source: Parade