Jane Kaczmarek is Used to Doing It All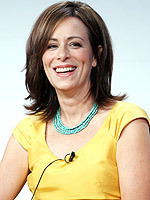 Jordan Strauss/WireImage
As she juggles a play, a television show, and her responsibilities as mom to Frances, 11, George, 8 ½, and Mary Louisa, 5 ½, Jane Kaczmarek is no doubt a multi-tasker extraordinaire. Fortunately, she's had plenty of practice. In a new interview with the Los Angeles Times, the 52-year-old actress recalls one "fateful week" when she learned that husband Bradley Whitford's former show The West Wing was picked up, along with her own former show Malcolm In The Middle. One day later, she learned she was pregnant with George!
"We had a toddler, two television series, we were living in a rental while our house was being renovated, and I was pregnant with No. 2."
It was on the set of Malcolm shortly after delivering George that Jane lived every actress-mom's worst nightmare. "The first episode back, they said 'You're in a bathing suit,'" Jane recalls. "I said, 'No, I weigh 154 pounds, I'm nursing, I've got varicose veins the size of my thumb!' I insisted on wearing support hose underneath my swimming suit, a sarong over the suit, and getting a stand-in."
Jane can currently be seen in TNT's Raising The Bar, and on stage in The House of Blue Leaves at The Mark Taper Forum in Los Angeles; Bradley can currently be seen in Boeing-Boeing on Broadway. The couple were married in 1992.
Source: Los Angeles Times