Donald Trump Determined to Raise Successful, Respectful Kids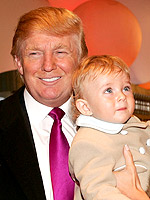 Bryan Bedder/Getty
Despite being the CEO of his real estate company, Trump Organization, and executive producer of the hit reality show, The Apprentice, businessman Donald Trump is equally determined to raise his five children — Donald Jr., 30, Ivanka, 26, Eric, 24, Tiffany, 14, and Barron William, 2 — to be successful, responsible, and caring adults. While having extremely wealthy parents might be an easy opportunity for kids to become overindulged, the 62-year-old entrepreneur says he refuses to be a dad to spoiled, selfish children who only make headlines for their wrongdoings. From advising parents to tell their kids they are "exceptional, so exceptional results are expected" to "stressing the importance of education, it's the foundation for success," in a new interview with MomLogic, Donald shares his tips he has used over the years when it comes to raising his children.
"Be an example. Children watch — and they will emulate what they see. Set the standard high. Challenge is good, and accomplishment creates healthy self-respect. [And] exhibit a sense of community through participation and philanthropy. Giving back is a great reward."
Donald Jr., Ivanka, and Eric are Donald's children with ex-wife Ivana Trump, Tiffany is his daughter with ex-wife Marla Maples, and Barron is his only child with wife Melania Knauss Trump.
Source: MomLogic