Christie Clark Barnes Thankful for Her Easygoing Baby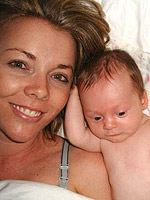 Courtesy Christie Clark Barnes
Christie Clark Barnes' role on Days of Our Lives kept her pretty busy in the past, but she's learning that it doesn't compare to how active (and tiring!) her daughter Hannah Bella, 6 months, would be. Sharing on her blog that "that acting job was a piece of cake, compared to motherhood," the 34-year-old new mom writes that "I'm like a chicken with my head cut off, try[ing] to manage my time."
Luckily, Hannah is "a very easygoing baby, all smiles and giggles at the moment," Christie explains, even though she's in the middle of some painful milestones — teeth! "Her first pearly whites are popping through the skin," writes the proud mom, "and even then [Hannah] is very chill!"
Hannah's dad is Christie's husband of six years, Thomas Barnes.
Source: Christie's Official Blog