Beddy Bye Baby: When Else Will Your Kids Race To Bed?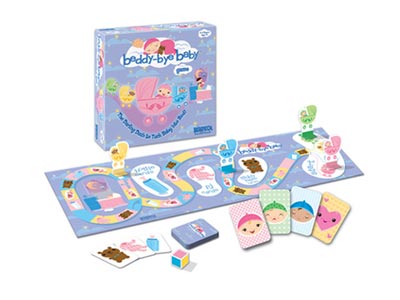 Beddy Bye Baby
If your child is into board games and you've only been buying from the shelves of your nearest retail chain, you're really missing out. There are so many cooler, smarter options available online and one I'm really excited about is Beddy Bye Baby ($19) by the award-winning game and puzzle maker Briarpatch.
The game board path is just the right length for keeping a preschoolers interest; To 'win' the game takes just 10 minutes. Four players collect teddy bear, pajama and baby bottle cards along the way, rolling a color-coded rattle (in place of a dice) to determine the number of spots they're allowed to move forward. If you land on the baby spot, you draw a card that can require you to put one of your other cards back…or a wild card that you can exchange for any of the other cards you might need. To win, get your buggy to the nursery with at least one teddy bear, a pair of pajamas and a bottle so that baby can finally go beddy bye!
This game encourages taking turns, builds counting skills and teaches symbol recognition. I found that it even opens up a dialog with our preschooler about the routine of going to bed…and it's perfect for a child who loves dolls and pretend play. Beddy Bye Baby is designed for children ages 4 and up, an age recommendation I agree with, and no reading skills are needed to play the game.
— Missy