Alice Temperley Thankful Baby Didn't Arrive Early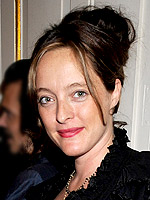 Dave M. Benett/Getty
Not only will British fashion designer Alice Temperley's first child be fashionable, the baby also appears to understand that mom has a job to do. Alice is due this coming Saturday and was worried that the baby may make an early appearance, causing a conflict with her show at London's Fashion Week on Monday. No worries though — the show went off without a hitch. That was a good thing because although the pregnancy made Alice "really focused," she "didn't have any contingency plan if the baby had arrived early." Instead, she relied on the people around her to make sure she was ready for the show.
"I have a good team of people, and the show was finished two weeks early because we're so used to showing in New York."
Alice is married to Lars von Bennigsen. The baby, due on the 20th, is a delivery surprise.
Source: WWD Fashion