Terrence Howard Tells Kids Presence is Important, Not Looks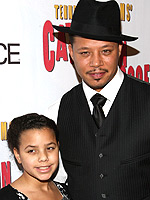 Jason Kempin/WireImage
In a world where image and beauty is seemingly more and more important, Terrence Howard is teaching his kids — Aubrey, 15, Hunter, 13, and Heaven, 12 — that "you can't put your value in looks." The 39-year-old actor turned musician is currently promoting his new CD, Shine Through It — an album made up of songs that teach love, beauty, and the lessons of life. His hope is that his children will learn from their father's own experiences as he describes them in the lyrics. According to Terrence, his message to his kids is simple: while a person can be extremely beautiful on the outside, what matters most is a person's presence as they enter a room and capture the attention of others, such as with a smile. He goes on to say that "love makes you beautiful" and in turn "what is beautiful radiates."
"Presence is based upon magnitude. You can pretend to have air about you, but it is quickly deflated, but you can not deflate presence. Presence walks into a room and surrounds and fills anything that's in the room without trying to demand it. It takes it."
Aubrey, Hunter, and Heaven are Terrence's children with Lori McCommas.
Source: Essence