Natascha McElhone Rises Up For Her Children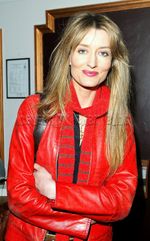 Danny Martindale/WireImage.com
In a matter of weeks Natascha McElhone will welcome her third child, but she'll sadly do so without husband Martin Kelly. In a new interview with the Times Online, the 36-year-old actress speaks at length about the heart attack which claimed Martin's life in May, and how their sons Theo, 8, and Otis, 5, have helped her not only to cope, but also to move on after such a tragic loss. Likening her boys to "little Duracell batteries" that charge her up for the day, Natascha says she has never "been able to go off into a corner and be self-indulgent" because the boys won't allow it. "There's no 'Shall I crumble or shall I rise, phoenix-like, from all this and take on the world?' — clearly, I can only do the latter," she says. In any event, Natascha still feels her husband's presence everywhere.
"I've never been one to believe in spirits, but I feel we're all suffused with him in different ways and that will live on, in me, in the kids, in this new little one that's just coming along. The amazing thing is how you can keep going if you have to."
The last time she heard from Martin, a plastic surgeon, was a voicemail left just 13 minutes before he died suddenly — and unexpectedly — in their West London home at the age of 42. Natascha and the boys were in Los Angeles, where she was shooting the Showtime series Californication; the couple were planning to meet up the following week in celebration of their 10th wedding anniversary and to undergo the 20-week ultrasound for their third child. "He left me this message, full of the joys…he couldn't wait to come out, he was so excited about the scan, so excited about the baby," she recalls. "Thank God, a lovely last message." When a family friend called several hours later to deliver the news of Martin's passing, Natascha was on set while the boys were playing at a gym across the street. "I did that thing I thought people only did in movies — I dropped the phone and my knees sort of buckled under me," she recalls. "I knew I was going to have to tell the kids."
"I thought of trying to suspend time or wait and not tell them for a day but I couldn't bear the idea of other people knowing and them not. I remember looking out of the window and seeing them chasing after each other with huge squeals of delight and thinking, 'I'm about to shatter their world.' They came in and they were like little boys are, full of energy and excitement, and I told them what had happened. And then the clouds descended…it was awful."
Click 'more' to read about how Natascha is helping her children remember their father.
Natascha made leather-bound memory boxes for all three children, filling them with Martin's favorite music and letters written by his friends, so that Theo, Otis and baby-on-the-way will someday have a more complete idea of who their father was. With that said, the family is focused firmly on the future. Although Natascha admits she initially had an "irrational fear" that moving on meant "leaving [Martin] behind" — as a parent, she says, "that's obviously what you must do."
"I have grabbed life by the throat and I am packing in as much as I can and trying to keep things fun for the boys, actually. They seem to be responding in a very positive way. From what I can tell, and it is so hard with kids to know, I don't think they feel that a door's closed. I think they still feel there are many doors to be opened and I want to keep that alive."
Natascha and Martin's baby-on-the-way, a delivery surprise, is due in one month.
Source: Times Online