Billie Piper Says Pregnancy Fascination is "Weird"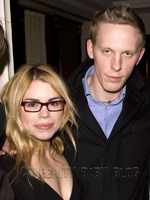 Dan Woolier/WireImage
Actress Billie Piper and her husband Laurence Fox never publicly announced that they were expecting their first child — and there was a reason for that. Billie believed her pregnancy "really has nothing to do with anyone" and that "people's fascination with people being pregnant is kind of weird." She explains,
"It's kind of nice when you're in the early stages of comingto terms with the fact that you're having a baby. I think that is niceto deal with that alone with your other half instead of making itpublic knowledge."
Now that her October due date is nearing, the former pop star has no problem talking about or showing off her growing body. "I've never wanted to dress up more and find ways to dress the stomach and my breasts because I've never had them before," the 25-year-old says.
Weight gain hasn't been an issue for Billie — or if it has, she doesn't know about it! Billie admits that "I don't weigh myself ever" because she believes that "scales are the work of the devil." The numbers-free zone extends to her obgyn's office, where she steps onto the scale at each appointment, but asks the nurses "not to tell" her what it says. Instead of obsessing over her weight, Billie prefers to not even think about it, saying, "I quite like the snacking in between meals and pastries have gone rightup in my estimation. Also, sitting on the sofa watching the TV and notfeeling guilty about it is quite nice."
Click 'More' to read about Billie's plans for returning to work after the baby.
Of course, relaxing and not focusing on her body is a large change for Billie, who spends many months a year portraying high-class hooker Belle in Secret Diary Of A Call Girl. When — at six months pregnant — she needed to film sceneswearing lingerie, Billie found that the show's producers were able to "conceal it very cleverly." However,lingerie wasn't the only challenge for her — the 12-hourdays also took their toll, as they were "taxing for me just on a physical level because I'm inpretty much every scene." Now that she is done filming the show, Billieisn't quite sure how much time she will take off from her career aftergiving birth.
"I don't really know at themoment, I'm just going to see what happens. Obviously I still want towork but I don't know in what way and when. Making sure the baby ishealthy is probably my biggest priority now."
Source: BBC Newsbeat