Levi McConaughey Will Grow Up Outdoors, Says Matthew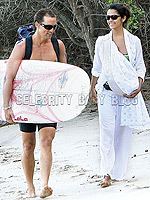 FAME
Little Levi is certainly no stranger to the beach, having been photographed on more than one occasion snuggling with his mom Camila Alves in his sling while his surfer dad, Matthew McConaughey, rides the waves. Frequent trips to the beach have become the norm, Matthew recently told Parade, and while the future surfer baby has yet to take a swim himself, "he will be getting salty soon." From the beach to the red carpet, the 9-week-old baby boy has been traveling with the couple since he was born and for Matthew — who was raised in the country himself — that is exactly his plan. "I want to get him out into the world," says the 38-year-old actor. Sharing that with their many excursions, Levi is "outdoors as much as he is indoors," Matthew goes on to say their boy will definitely be growing up in the great outdoors.
"I like the city but I also want some space. And my boy is going to be out in the middle of it."
Matthew's new movie, Surfer Dude, hit theaters Friday.
Source: Parade