Jane Kaczmarek Refuses to Sacrifice Family Time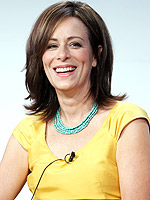 Jordan Strauss/WireImage
When Malcolm in the Middle wrapped back in 2006, Jane Kaczmarek, who played Malcolm's mother Lois, knew that she wanted to take a break from the acting world and focus her attention on her three kids — Frances, 11, George, 8 ½, and Mary Louisa, 5 ½. The 52-year-old actress says that her hiatus from the TV screen "has been long enough that I was able to travel and spend some time with my children," quality time that she believes is special, especially since "I waited really long to have kids." After years of looking forward to having a family with her husband Bradley Whitford, Jane — who says she "wants to be there" — refused to accept another project that would be as demanding as her previous roles and was "grateful" when she was offered the part in her new series, Raising the Bar. Along with the production crew, Jane has been able to figure out "a schedule where I can work a real minimum in a very condensed way and have the majority of my week available to be a mom."
Naturally, spending so much time with her children traveling, Jane has managed to create quite a few memories along the way. Asked by TV Guide if any of these memories reflect back on her character Lois, Jane thinks of one specific plane ride with a baby who needed a diaper change!
"We were on an airplane, and they didn't have one of those changing tables in the bathroom. I got down in the aisle when they were serving drinks and insisted on changing his diaper right then and there."
Jane's new series, Raising the Bar, airs Monday nights at 10 p.m. on TNT.
Source: TV Guide