Frank Dicopoulos, Daughter Suffer from Food Allergies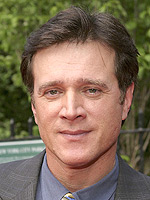 Thos Robinson/Getty
Food allergies are serious business and is why actor Frank Dicopoulos took part in the FAAN (Food Allergy & Anaphylaxis Network) Walk for Food Allergy in Long Branch, NJ on Sunday, August 7th. The Guiding Light star is no stranger to the network, as he found out that he was allergic to the iodine content of shellfish when his "throat closed up" — while on his first date with wife Teja Anderson! However, what scares him most is learning that their daughter Olivia, 11, is allergic to shrimp. When exposed to it, Olivia "had trouble breathing," an experience which the actor calls "scary." It's one reason that the 51-year-old decided to emcee the FAAN event.
"It's bringing awareness to the community that for kids and adults who have food allergies, it's a serious problem."
Frank and Teja are also parents to son Jaden, 14, who is allergic to grasses.
Source: APP
Does your child suffer from a food allergy? If so, how did you find out?