Andie MacDowell Finds Support in Children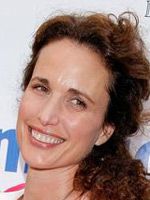 Jemal Countess/WireImage.com
When actress Andie MacDowell began her career 24 years ago, she was 26 and childless. Now that the 50-year-old is mom to Justin, 21, Rainey, 19, and Sarah Margaret, 13, she has learned to balance her career with motherhood. She knows it is a "balancing act" but that "my girls have been a great support to me."
"I come to them when I need to make a decision; they love to watch me work. That is part of the reason I've felt OK about what I want to do. They have never made me feel like I was doing something that would hurt them in any way."
Andie tries to have a very open relationship with her daughters and wants to make sure that she teaches them "to stay true to yourself." She wants them to know that "when you are authentic" that "you create a certain energy" and "people want to be around you because you are unique."
Justin, Rainey and Sarah Margaret's dad is former model and rancher Paul Qualley.
Source: The Daily Telegraph